India / Travel
This Hilltop Homestay Is Perfect to Experience Himachal's Snow Before Summer Finally Arrives
Beyond misty mountains and serpentine roads, past the crowded corners of Shimla, Mashobra offers an opportunity to experience the blissfully slow life of mountain towns. Come winter, the majestic mountains are blanketed in layers of white and Mashobra transforms into Himachal's very own promised land.
My best friend, Diksha and I decided to escape our bustling lives in Delhi and head to Mashobra to witness its beauty for ourselves. And just like that, one fateful night, our very first adventure of the new year began!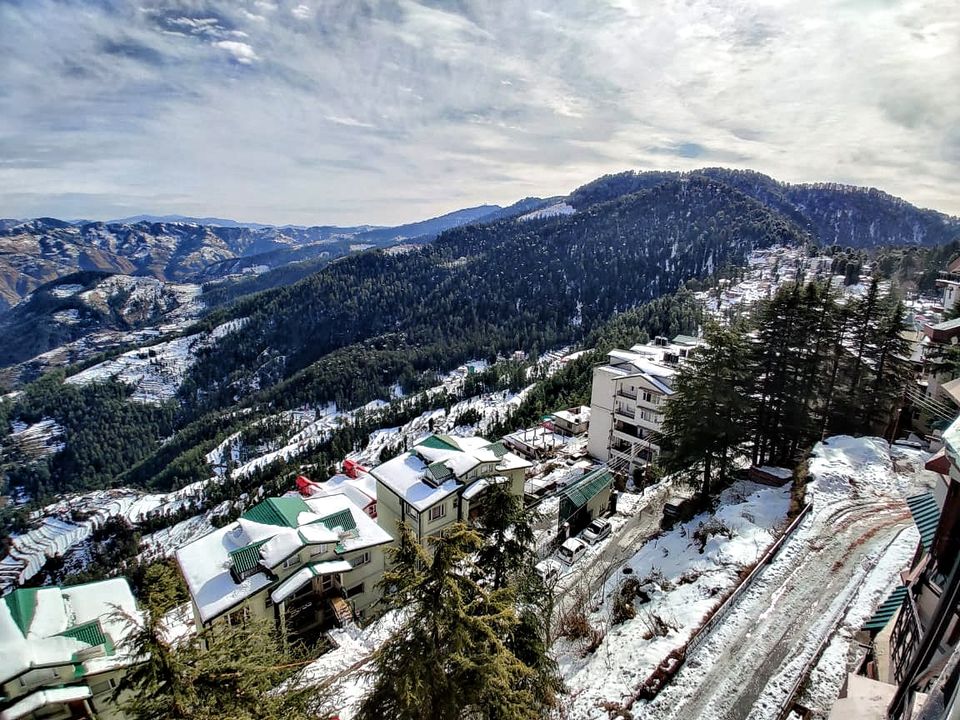 We were welcomed to a freezing Shimla at 5.00 am as an incessant drizzle drenched the town. The roads were slippery with ice, slabs of snow on rooftops glistened under the moonlight, and a few bonfires gave warmth to milkmen, newspaper distributors and of course, over-enthusiastic tourists. While our driver maneuvered through the icy slopes of Mashobra to come pick us up, we treated our souls to some piping hot chai, music and charcha of national affairs with a few locals.
An hour later, we were blessed with views of a snow-laden landscape as far as the eyes could see. And in the middle of it all, lay tucked our gorgeous bnb, The Cloudberry.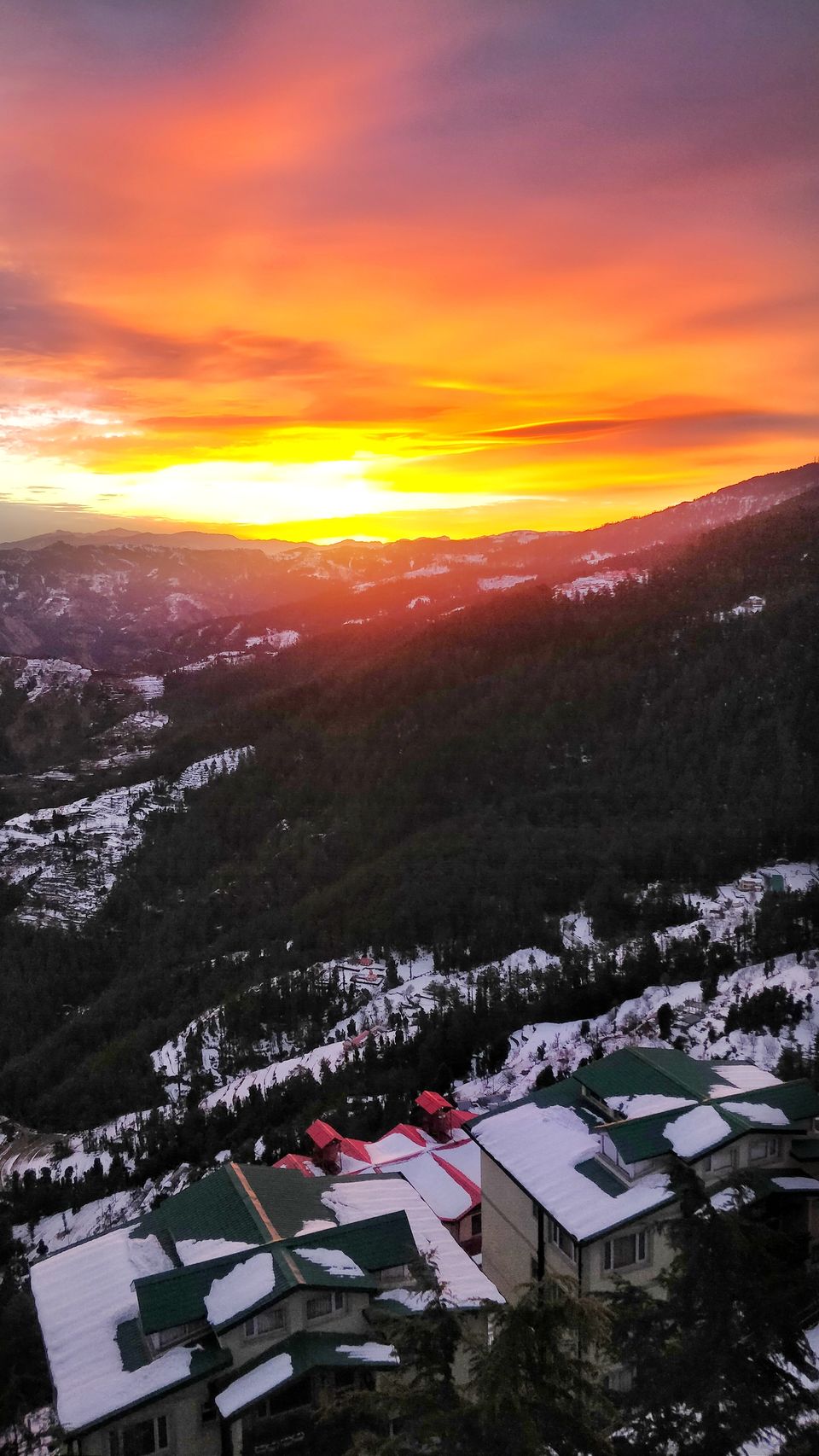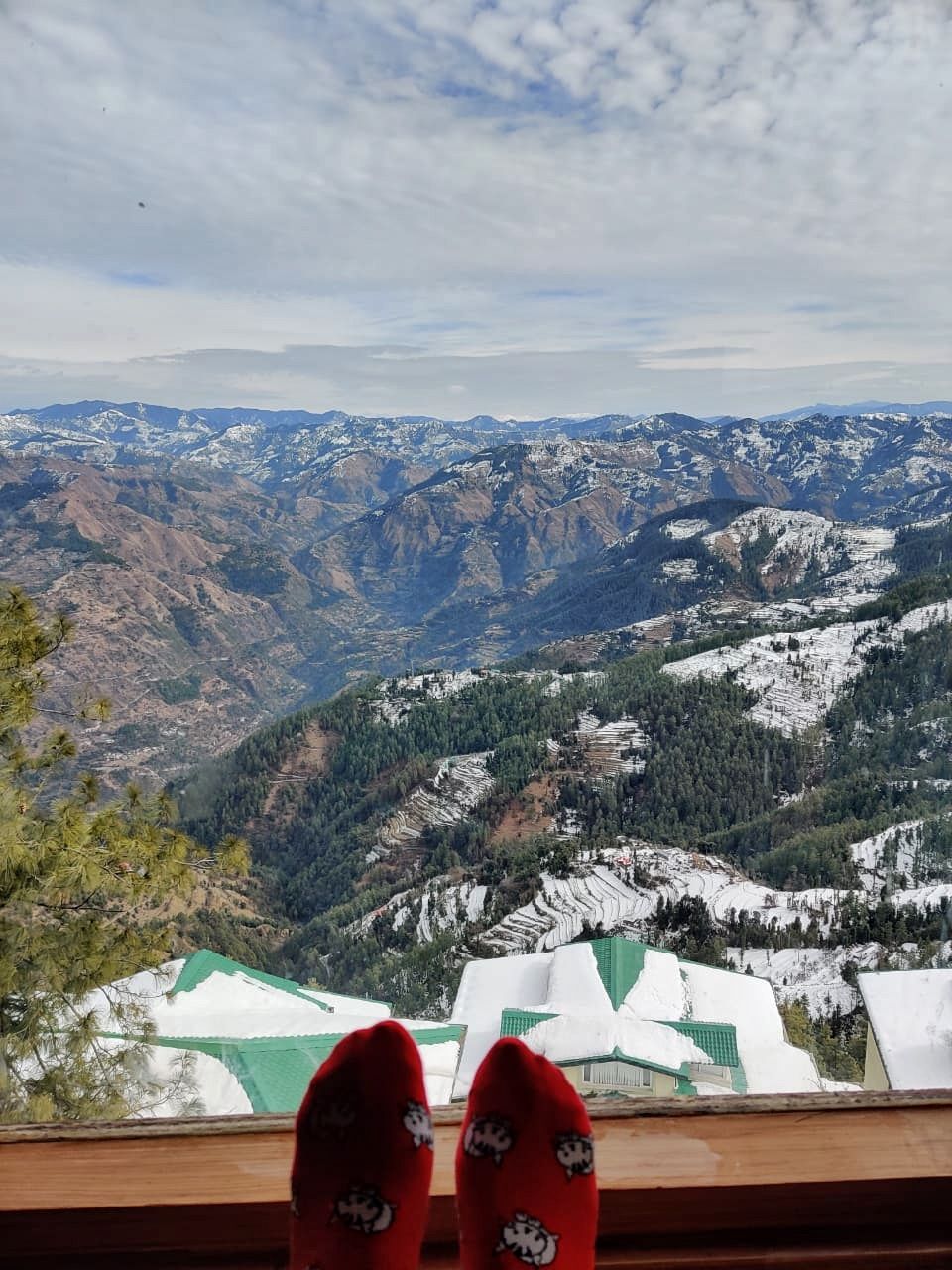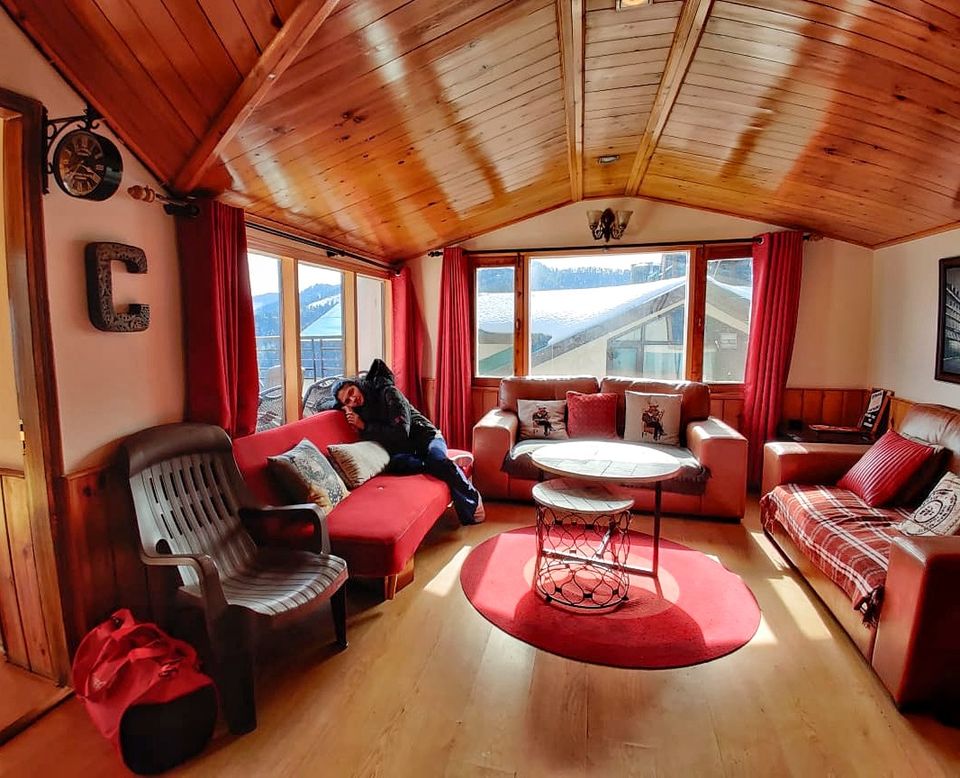 There's an undeniable charm about mountain homes that have wooden furnishings – they wrap you in a tight, warm hug and don't let go! By the time we checked in, the winter sun had come streaming through the home's numerous glass panes. We whipped up a bowl of Ramen noodles in our home's tiny but well-equipped kitchen, and sat soaking in the sun while admiring the precious view. The common area didn't just have comfortable couches that we could spend the entire day lounging on, but also boasted of a rich collection of books and games that kept us engaged and entertained throughout our vacation. With no televisions, cacophony of horns or overwhelming crowds, the sanctuary of The Cloudberry rejuvenated us instantly.
Views that took my breath away!
While we spent a good amount of time appreciating the sheer size and aesthetics of The Cloudberry, the real gem of the crown lay quietly hidden, waiting to bewitch us with its beauty – the master bedroom.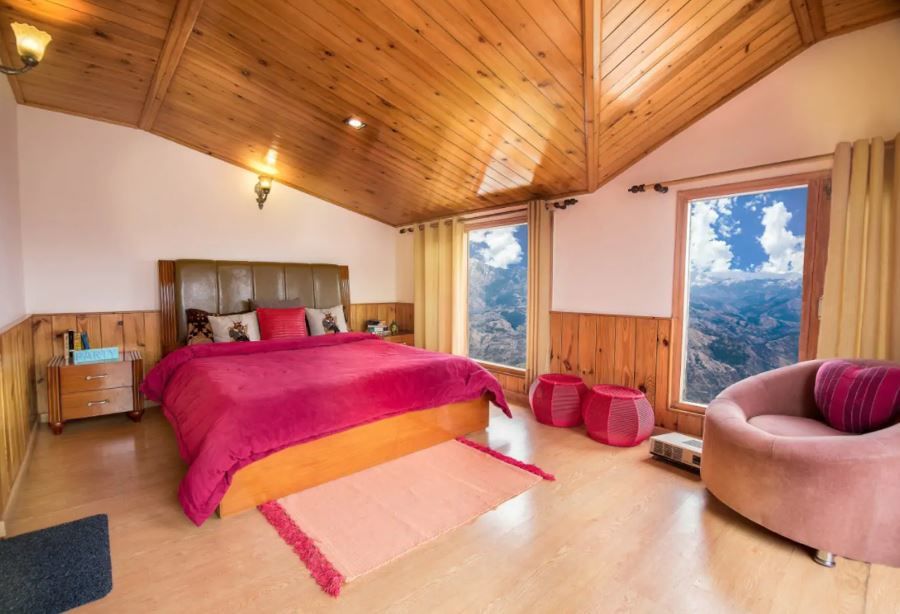 The master bedroom of The Cloudberry is what dreams are made of! The huge room with two window panes on one side and a massive glass wall on the other, beautifully complimented the pristine outdoors. It was as if the windows were made in an attempt to frame the ever-changing dramatic skies and frosted mountains that enveloped Mashobra.
While we couldn't help but gawk at the room's view in awe, it was at night, that we were left even more mesmerised. A million starts blanketed the sky as the twinkling lights from faraway villages made the mountains sparkle. It felt as if our room was suspended in a ball of glitter!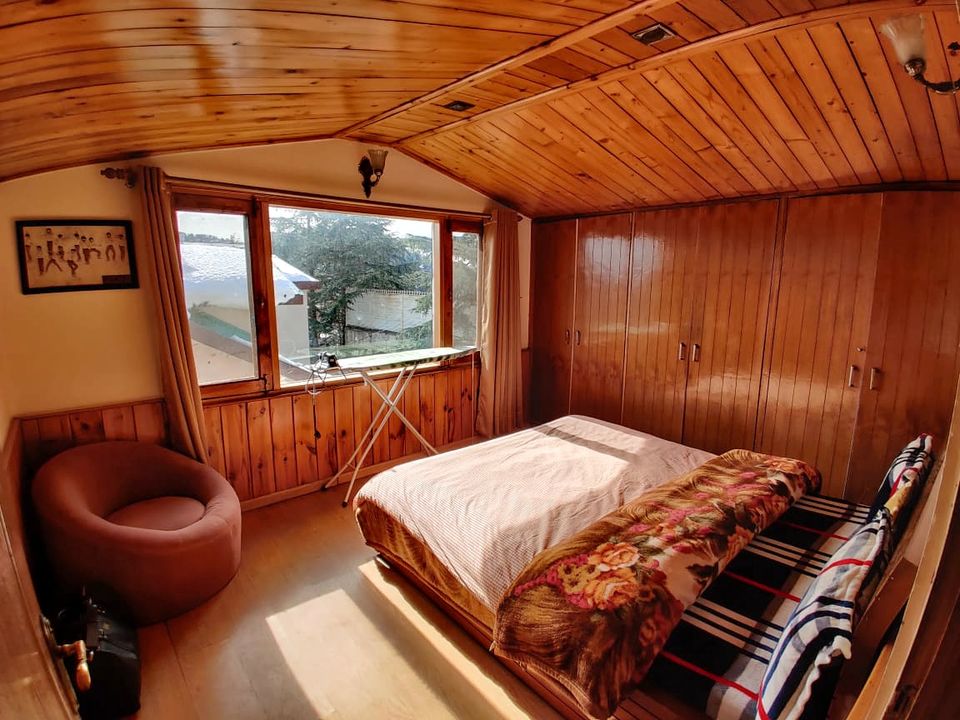 The second room of The Cloudberry is situated on the other end of the home. Again the right amount of cozy, the room has a spacious bathroom situated right outside. One aspect that made this room stand out for me was its proximity to the kitchen. For friends and family who're always complaining of terrible hunger pangs late at night, the location of the room makes it easy to simply slip into the kitchen and gorge on delicious treats.
Even the kitchen and dining area of the bnb were so snug, they got Diksha waking up early one morning to whip up delicious pancakes! We devoured our breakfast as we watched the snow caress everything around us. I could only imagine how heavenly a warm meal cooked by my mom would taste in this cute, little space!
Why I loved this bnb
Apart from the views, decor and comforts that The Cloudberry offers, what I especially loved about it is the unlimited open space that it offers. Unlike a claustrophobic hotel room that feels as if its caging me within its uninspiring four walls, at The Cloudberry, the bounty of nature always found its way to mesmerise me. The crimson rhododendrons of spring, the fiery orange leaves of autumn and snow-capped mountains of winter are always just at an arm's length at The Cloudberry. If you're a poet, naturalist or an artist, and are looking for a date with nature, this is surely the place to be.
How much did it cost?
The entire unit, which consists of a living area, kitchen, dining area, two rooms, two bathrooms and one massive balcony costs only Rs 3,999 per night!
The places we wandered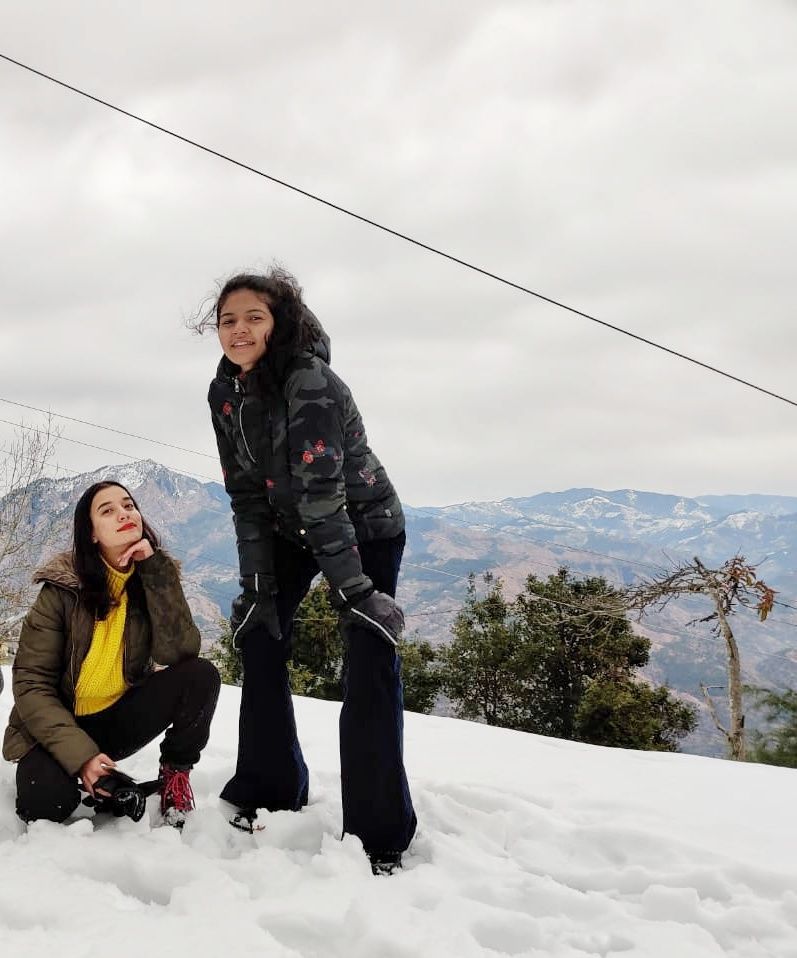 We spent most of our day making snowmen, playing in the snow and having epic snowball fights. Close to The Cloudberry lies a beautiful walking trail which is an excellent promenade from where one can watch the sunset. Apart from this, one can explore the main market of Mashobra, take hikes, or day trips to Shimla. You can also visit The Reserve Forest Sanctuary, Mahasu Devta Temple and Tattapani River where a host of activities such as river rafting and hot pool baths await.
A perfect place to bond
As working women, it is difficult for my best friend and I to take out time for long trips together, and so, Mashobra made for the perfect weekend trip. We hopped on an overnight bus from Delhi at 9.00 pm, reached Shimla by 5.30 am and were in Mashobra by 6.30 am! A getaway couldn't get quicker than this. So if you're looking for an escape where you can spend exclusive time with your friend, partner or your entire family, The Cloudberry has to be the next BNB you visit. I promise you, you'll come thanking me later!